MIDNIGHT HORSES Frock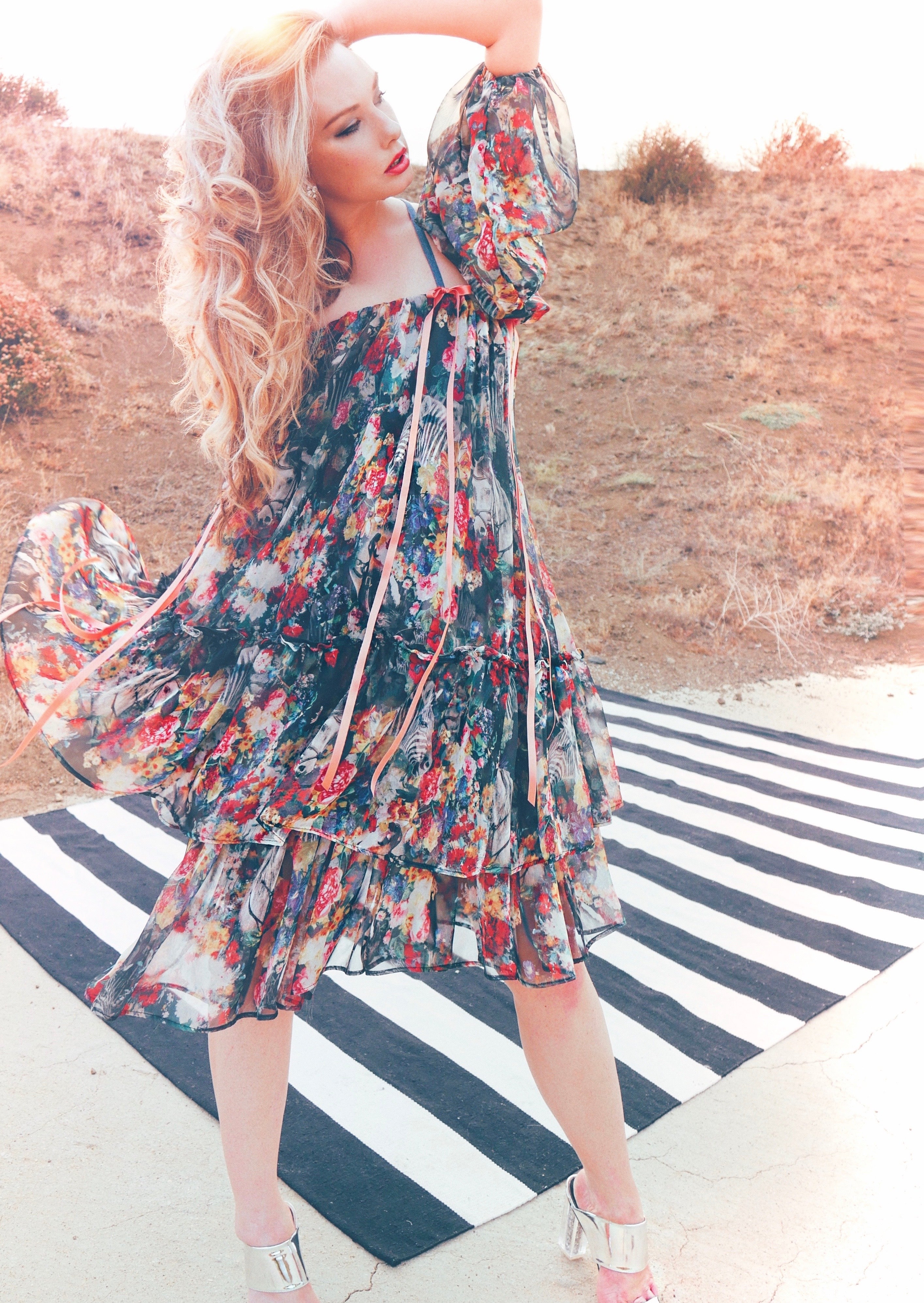 $495.00
Bridal Couture You Can Customize. Made in Los Angeles.
Introducing the limited edition "Midnight Horses" Frock.
 _
Frock on in this colorful and exotic floral and wild horse print handcrafted tiered chiffon frock overflowing with ruffles and ribbon fringe detailing over a fitted demin empire waist bodice.  Criss crossing denim straps allow for chiffon balloon puff sleeves to be worn off the shoulder or over the shoulder.  Fully lined. Zipper in back. Hand wash separately cold, no bleach, line dry. Runs true to size. 
Measurements:
Size 0- Bust: 32-32.5 | Waist: 24.5-25.5 | Hip: n/a 
Size 2- Bust: 33-33.5 | Waist: 25.5-26.5 | Hip: n/a 
Size 4- Bust: 34-34.5 | Waist: 27-28 | Hip: n/a 
Size 6- Bust: 35-35.5 | Waist: 28-29 | Hip: n/a 
Size 8- Bust: 36-36.5 | Waist: 29-30 | Hip: n/a 
Size 10- Bust: 37-37.5 | Waist: 31-32 | Hip: n/a 
Size 12 - Bust: 38-38.5 | Waist: 33-34 | Hip: n/a
"Midnight Horses" Frock Ordering Info and Sales Policies:
Online only. This item is a limited edition pre-order item and will require 3-4 weeks production time, from date of purchase. If you need a quicker turnaround, have any questions regarding our "Midnight Horses" frock, please contact salesrep@lauren-elainedesigns.com. Complimentary domestic shipping included.
Final sale,  made-to-order item.